LAN Port temperature humidity detector smoke alarm system&Indoor network monitoring system
$166.00$134.68
Product Code: 1W340K_S1T1
Manufacturer: PCsensor
Stop production
1. Equipment Introduction:
 Model Name:    1W340K
Application fields:  Computer Room, hotel, shopping mall, supermarket, museum, library, warehouse, Industrial environment temperature & humidity real-time detect.
Features:   
1. Software on PC in local area network can real-time read the environment temperature and humidity data, and save related data as files. 
2. Can connect external smoke alarm sensor, real-time monitoring of smoke data, once happen abnormal timely alarm
3. Software support window system
4. POE power supply, compatible with 802.3 af standards.
New Functions!!
(1)
1W340 product Newly add remote access function , welcome to download the newest software (1W340 V4.0 zip) .
Operating steps:  1. Search Device >> 2. Register Account >>3. Login user >> Set device config >>4. Search network device
Electrical parameters:  
1.Working voltage:DC 5V
2.Working current:<230ma
3.Equipment power:<1.15W
Factory settings:  
(1)IP address: 192.168.1.188 (the user can modify)
(2)The subnet mask: 255.255.255.0 (the user can modify)
(3)The gateway: 192.168.1.1 (the user can modify)
(4)Connection types: TCP (default shall not modify)
(Device supports secondary development; the details please consult the salesman)
 Equipment appearance:
2. Device Use
Device using aviation plugs connecting internal circuit board, probe and network port. Please tighten the aviation plug, and then connect the switches that support POE with the cable. Device can work (Note: You must insert the plug before power-on).
2.1. Direct connection
 Connect device to computer with one LAN cable, generally called direct connection or point-to-point connection. It makes it easy to visit device. Simplified wiring and operation.
2.1.1Network Settings
 Factory default IP (192.168.1.188) subnet mask (255.255.255.0) gateway (192.168.1.1).Computer and device must in the same network segment.
Steps as follows:
Step one: "Network Place" -> 'Check the local connection" ->"Local Connection", right click the "Local Connection"->"Properties"
Step Two: "This connection uses the following items" ->"Internet Protocol Version (TCP/IP)"->"Properties"
Step three: Select "Use the following IP address", fill in the subnet mask, default gateway same to the device. Set the IP as 192.168.1.xxx, the final data (xxx) of device IP and the computer IP  cannot be same (note : xxx don't set 0 or 255),Set up and then click "ok", save.
2.2 Networking connection
The device and the computer have only one network port, if the user wants to visit several devices, or use several computers to visit one or more devices, it requires the user to form a network, the user needs to choose the switch supports POE. There must be more switch ports than the devices.
If the computer and the device is not in the same network segment, users need to modify the IP, subnet mask, gateway to fit with current network, please refer to the device software setting
2.3 Restore factory settings
If you forget the parameters or incorrectly set to make it not work, you can press the Preset button on device for 3~5 seconds. It is finished when the LINK and ACK light go out.
3. Data detection
The resolution and precision of the data will be different by different probes. Please refer to the table below:
Note: If the user needs to connect the smoke alarm, Please pay attention to this device only supports 12V smoke alarm (working voltage).when smoke alarm triggered, the signal line should be 12V output voltage.
(1)
(2)
(3)
4. Software instructions  (Note: Our software only support windows system .)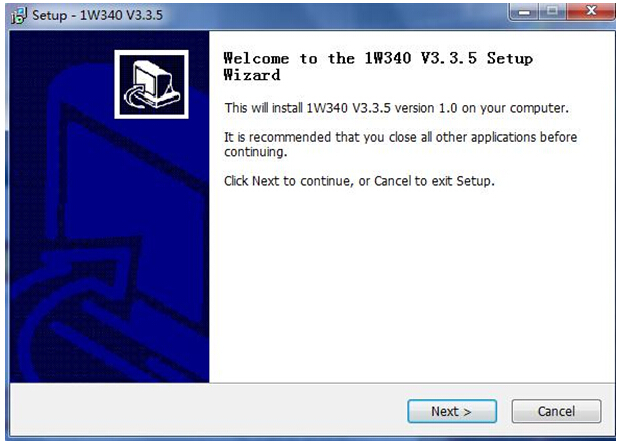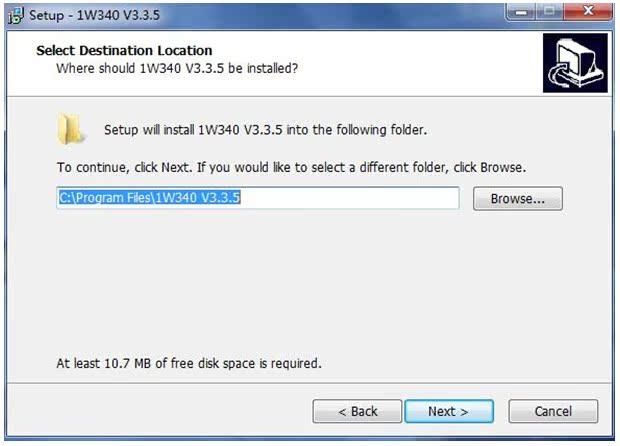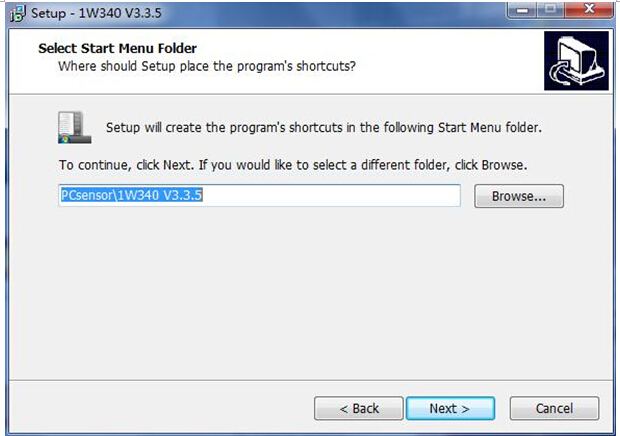 4.1. Search probe
Open software will appear the following window, fill in equipment starting the IP address and ending IP address, then, software will search the device from starting to end the IP address .(including  all the 1W340 equipment )
4.2. Real-time temperature
Click on "real-time data" and select IP address what you want to check the equipment.  As follow:
4.3. Log
Choose what you want to see the equipment IP address and read the temperature (As follows).
4.4. Curve
Choose what you want to see the equipment IP address
Click left mouse button under marquee can zoom curve and narrow curve; Click and hold the right mouse button, can move the curve.
4.5. Setting
Click on "Setting" and select "General Setting ". As follows:
Click "Setting" and choose "Device Setting", choose one IP address, as follow:
Click on the HS10, will enter DS18b20 temperature probe to set temperature calibration value.
4.6. MSN remote access to the temperature
MSN users log in, your friends can send related instructions and to obtain the relevant temperature data. When your friends send prompted number 1 to you, he will automatically get the temperature data. Include real-time temperature, maximum, minimum and average.
                                                 (1)
4.7. Email function
 Fill-mail message, and save. (Send E-mail request: support for POP3/SMTP services or other ports.) Receiving mail can fill two.
Can realize the following functions:
1, Open warning function, when the alarm is automatically triggered to send a message to the specified mailbox;
2,You can set the time, from time to time, it will send a message to the specified mailbox (recommended);
3, Open continuous send, you can send mail to open a row in the specified mailbox (not recommended).
5. PACK LIST
6. Specification version
| | | |
| --- | --- | --- |
| NAME | VERSION | NNOTES |
| 1W340F12specification(English)-2015 | V1.0 |   |
|   |   |   |
7. Copyright statement
Copyright© 2014 by SHENZHEN RDING TECH CO., LTD.
Note: If you want to download the latest software, please click here: http://software.pcsensor.com/pc_en.html
End
---
Customer Reviews
This product hasn't been reviewed yet.